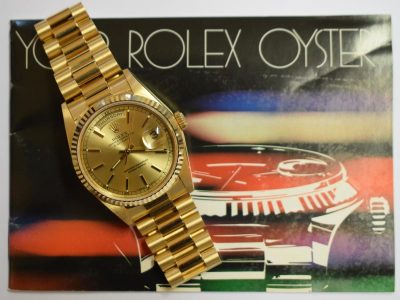 A gentleman's 18ct gold Rolex wristwatch going under the hammer on Valentine's Day in the Charterhouse two day February auction is expected to sell for thousands of pounds.
"Rolex is synonymous with fabulous craftsmanship and quality and this wristwatch will tick the box for many buyers" Commented Richard Bromell. "The watch is pretty much in the same condition as the day it was made rather than having been well loved and enjoyed over the years which is rare to see on a watch 20-30 years old."
The Rolex Oyster Perpetual Day-Date is in an 18ct gold case and matching gold President bracelet. Coming to auction with its original box, tags and booklet and this model is popular with both ladies and gentlemen and being sold on Valentine's Day might be a wonderful surprise for someone!