Not Saved for a Rainy Day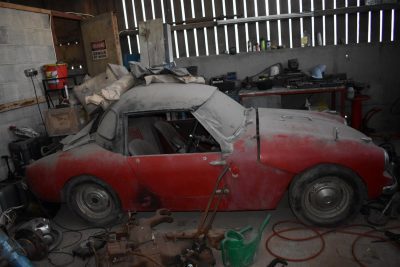 Two classic cars entered into the Charterhouse sale on Sunday 4th November have rather unusually not seen a drop of rain on their bodywork for decades.
"Interestingly both cars are open topped sports cars and both will appeal to very different car enthusiasts." Commented Matthew Whitney. "The 1960 Fairthorpe is easy to see it has not seen a drop of rain in years as it is covered under decades of dust and is stored in a barn, the other is a 1985 Mercedes-Benz 380SL which its meticulous owner bought in 1997 and has not been in the rain since then."
The Fairthorpe Electron Minor has been in just one family ownership since new in 1960. A rare little car, fitted
Live bidding is available for all of our auctions. Bid online
here
, where you can also view full catalogues and watch the auction live.
Come and see us
We are a family run auction house based in Sherborne in Dorset, with a global client base. Verbal valuations are available at our salerooms, and we are also very happy to receive images via email, which you can send here.  For all other enquiries please call our receptionist Barbara on 01935 812277, and she will be happy to help.
Recent Auction Successes