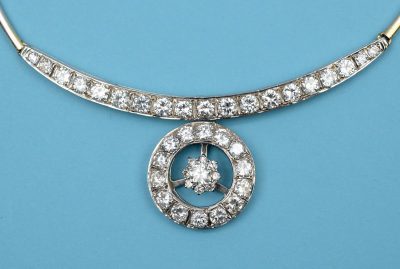 The huge Charterhouse May two day auction on Thursday 24th and Friday 25th has a vast array of lots estimated to sell from £50 up to £10,000.
On Thursday 24th May there are 600 lots of silver, jewellery and watches. In the jewellery there is a diamond necklace with about 10ct of diamonds estimated at £8,500-10,000*, a large three stone diamond ring £6,500-7,500*, a large pair of diamond stud earrings £5,000-6,000* and an early 20th century diamond pendant brooch £2,500-3,500*.
In the silver section there is a Regency silver claret jug £700-1,000*, a large early 19th century silver ewer £1,000-1,500* and a Victorian silver gilt and glass Cellini pattern claret jug at £4,000-5,000*.
In the watch department there are both ladies and gentlemen's Rolex, Longines, Omega, Jaeger-Le Coultre and International Watch Company with estimates up to £1,500*.