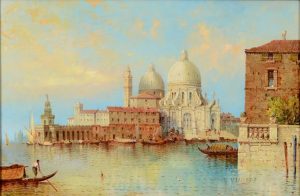 A collection of pictures from a Dorset deceased estate are to be sold in the first Charterhouse auction of the New Year.
"The pictures have been collected over a period of years, hung on the walls and enjoyed." Commented Richard Bromell. "They generally date from the Victorian period onwards but there are also some more modern and contemporary pictures which work well with the more traditional subjects.
Included in the collection are a pair of oil paintings by William Meadows with a view of Santa Maria della Salute from the Grand Canal and its pair. Dating towards the end of the 19th century, signed and measuring 39 x 60 cm this pair of pictures are estimated at £1,500-2,500.
Also showing life in the Victorian age, but no in such a romantic way as a view in Venice is an oil painting by Nicolas Condy. A West Country artist, the Charterhouse picture portrays a harsh existence in a rustic kitchen and is estimated at £1,000-1,500. […]