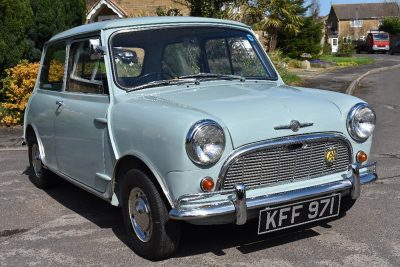 A Mini, dating from the early swinging sixties, is entered into the Charterhouse classic car auction on Sunday 17th June.
"Mini cars are motoring icons and every time I see an early model it put a smile on my face." Commented Matthew Whitney. "With excellent parts availability, simple mechanics, their diminutive size, bags of character and fun to drive Mini's appeal to classic cars enthusiasts of all ages."
The Mini first made an appearance in 1959. Designed by Sir Alec Issigonis it was revolutionary with its space saving transverse engine front wheel drive layout and was so popular it carried on in production until 2000 with sales of over 5 million Mini's.