White Helmets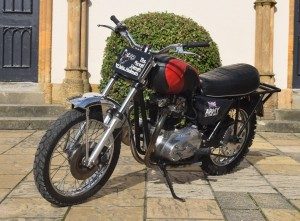 Sherborne auctioneers Charterhouse are selling six of the world famous Royal Signals Motorcycle Display Team Triumph motorcycles on Thursday 16th November.
More commonly known as The White Helmets, the display team was a group of serving soldiers from the Royal Corps of Signals who performed public displays of motorcycling skills, aerobatics and stunt riding, and were based at the Royal Signals Blandford Camp.
"We are delighted to receive instructions to auction these Triumph motorcycles from the dare-devil White Helmets." Commented Matthew Whitney, who heads up the auctioneer's classic car department. "I first saw them in action over forty years ago when I was a young lad and they certainly made an impression on me then."
Beginning 90 years ago, in 1927, the riders were normally dispatch riders and the team have had several names in the past including 'The Red Devils' (before the Parachute Regiment Team of the same name existed), 'Mad Signals' (on account of the poor brakes on the motorcycles), and only adopted the name 'White Helmets' in 1963.
Live bidding is available for all of our auctions. Bid online
here
, where you can also view full catalogues and watch the auction live.
Come and see us
We are a family run auction house based in Sherborne in Dorset, with a global client base. Verbal valuations are available at our salerooms, and we are also very happy to receive images via email, which you can send here.  For all other enquiries please call our receptionist Barbara on 01935 812277, and she will be happy to help.
Recent Auction Successes